New IXIY Hosting 2.0 Website Design
Having our official website running after one year, we've decided to alter the design for better site navigation. Here I present you the brand new IXIY Hosting 2.0 design!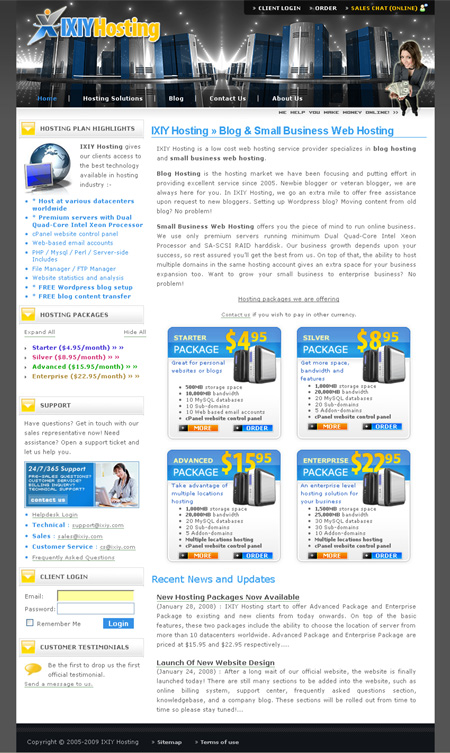 At the top part of the header image, you'll see 3 links on the right :-
CLIENT LOGIN : Login to Clients Area (details in the next post)
ORDER : Make a quick order of products and service here
SALES CHAT : Have a Live Chat with our Sales Team
At the bottom part of the header image, there are 6 links :-
Home : There's always a home (homepage) for you. :-)
Hosting Solutions : All our hosting plans are here
Blog : Look for updates in our company blog
Contact Us : Drop us a line or two here
About Us : A brief introduction of IXIY Hosting
Make Money : A few ways to make money with IXIY Hosting
At the bottom of the website, there are another 2 links :-
Sitemap : List of all webpages in this website
Terms Of Service : Terms Of Service of IXIY Hosting
All links in this new design are tested and should be working fine.
In case you discover any error, please feel free to drop us a comment below.
Your review would be highly appreciated as well.
Hope you like the new design while we continue to improve your hosting experience with IXIY Hosting.
Cheers!
Posted in Updates, on January 23rd, 2009
Comments (0)
Leave a Comment