» Client Login » Order »



HOSTING PLAN HIGHLIGHTS

IXIY Hosting gives our clients access to the best technology available in hosting industry :-
* Host at various datacenters worldwide
* Premium servers with Dual Quad-Core Intel Xeon Processor
cPanel website control panel
Web-based email accounts
PHP / Mysql / Perl / Server-side Includes
File Manager / FTP Manager
Website statistics and analysis
* FREE Wordpress blog setup
* FREE blog content transfer
HOSTING PACKAGES
SUPPORT
Have questions? Get in touch with our sales representative now! Need assistance? Open a support ticket and let us help you.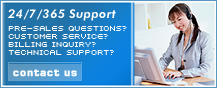 Technical :
Sales :
Customer Service :
CLIENT LOGIN
CUSTOMER TESTIMONIALS

Testimonial From 5xmom
5xmom (client since July 2005) : I want a reliable hosting which ensure that my sites run 24/7 without downtime… never compare webhosting packages based on the dollar amount. The main criteria is to find out if the company is reliable.

Testimonial From Paris B.
Paris B. (client since March 2007) : I presently have 3 hosting accounts with Ixiy.com which is saying a LOT about how much I trust them.